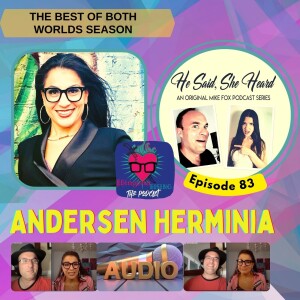 Friday May 19, 2023
Andersen Herminia (Audio)
Andersen Herminia, host of Chingona Rising Podcast, tells Mike Fox how her rise from trauma to peace led her to helping other women going through similar struggles. Andersen is a Professional Writer, Graphic Designer, Author, and Public Speaker.  
Andersen says: "I am FAR from perfect, so I am constantly learning, growing, RISING! These are my lessons from the rise, some are funny, some are sad, but every single one is honest and hopefully allows you to feel seen. Because YOU—Reina—are a chingona for waking up every. single. morning. Despite challenges, despite fear, despite trauma, despite whatever obstacles have been thrown at you. Some days you will conquer, others you will feel conquered. Rising is found in the lessons we learn, the knowledge we share and the strength we find in each other. Hasta próxima, mis Reinas Chingonas—KEEP RISING!"
This episode concludes with a song by Jean Paul Jean Paul called "Drive".  
This episode is brought to you in part by: Joe Spector's Grit Growth & Gratitude Podcast. 
Free happiness & resiliency ebook and meditations: www.thejoespector.com

Apple Podcasts: https://podcasts.apple.com/us/podcast/grit-growth-gratitude/id1669824838

Spotify: https://open.spotify.com/show/7hyfeH7Jwk49eotTeJg8Hm
Comments
(0)
To leave or reply to comments, please download free Podbean or