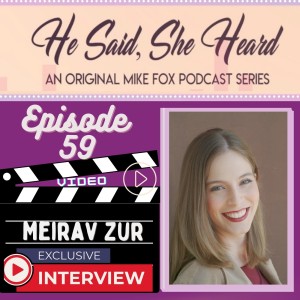 Saturday Jun 18, 2022
Meirav Zur (Video)
Actor Meirav Zur joins us to talk about her live comedy show "Inconceivable: The Totally True One-Woman Semi-Fertile Quasi-"Musical"", a one-woman comedic show depicting a hilarious and honest look at the complexity of modern infertility!  Plus, she tells us about her podcast "Nine Minute Musings".
Website:  https://meiravzur.com/inconceivable-info/
Instagram/Facebook/Tiktok:  @inconceivableshow
This episode is made possible to you in part by: The Podcast: The View From My Middle Finger, available where podcasts can be heard.  Listen via apple podcasts at: https://podcasts.apple.com/us/podcast/the-view-from-my-middle-finger/id1616785095
Music by: Mattia Signaroldi
Appearing in blooper/pooper reel are: Mattia Signaroldi, Wonky Tonk, Charlie & Nina, Mike Fox, and Ron Speakman.
Comments
(0)
To leave or reply to comments, please download free Podbean or